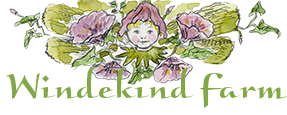 Windekind Farm
Creating a place that people love
The 120-acre farm is hidden away in its own south facing upland valley with a view down the spine of the Green Mountains.  
In this remarkable natural environment, Windekind offers three highly finished, self-catering cottages that sleep between 2 and 7 people. Each cottage has a full kitchen, bath(s), living room, bedroom, library,  WiFi and Ruko devices for network  TV connection. 
The cottages are surrounded by classic farm buildings, meadows, ponds, a brook, stone walls, nine flower and vegetable gardens and a 1/5th size garden railroad. The grounds are directly linked to a 30 mile network of hiking, nordic skiing and snowshoe trails, many of which pass through the adjacent 20,000 acre Camel's Hump State Park.
Just 30 minutes from Downtown Burlington and near Alpine skiing in the Mad River Valley and at Stowe.
Learn More 
Learn more about our Cottages so that you can enjoy a stay at Windekind.
Book a Reservation
Visit our booking calendar, see the open dates and their costs.
Live at Windekind 
Read the story about the Development of the Commons at Windekind and see if it might be something for you.